TONIGHT! $37 for Professionals. Hear first-hand from three design leaders working on opposite shores of the Pacific as they talk about design, branding and life. 
Joel Beukelman – Senior Interaction Designer at Google Chrome – shares lessons he's learned about life, work, bias and balance in a talk entitled "Design Survival Skills; How I didn't die in tech"
Mike Peng – Managing Director of IDEO Tokyo – IDEO Tokyo's mission is to help Japan regain its creative and economic leadership positioning by being a catalyst for change. Mike will be speaking about IDEO Creative Metrics: Beauty, Brains, Bravery, Heart, Magic, Rigor and Mastery. 
Dara Weinberg – Design Director at Ludlow Kingsley – Ludlow Kingsley is a small, Los Angeles-based branding agency focused on designing and building web campaigns that are high in concept and make for a unique yet intuitive user experience.
Join us for an inspiring evening of stimulating design discourse and creative community networking. 
---
Food by Tucker & Bevvy, including: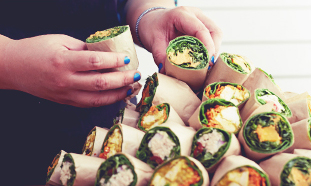 Kalua Pulled Pork Slider with Kale Slaw, Hoisin BBQ Sauce
Smoked Ahi Salad Wraps with Capers, Red Onion, Grape Tomatoes, Baby Spinach
Huli Huli Chicken Slider with Kale Slaw, Spicy Pineapple Chutney

Chicken Salad BLT Wrap with Mayo, Celery, Grape Tomato, Organic Greens
Curried Chicken Salad Wrap with Mayo, Almonds + Raisins, Carrots, Greens
Roasted Butternut Wrap with Red Pepper-Cashew Hummus, Baby Kale (Vegan)
Tucker & Bevvy gourmet brownies
Beer, Wine & Soft Drinks available for purchase (to benefit AIGA!)
---
Parking
Limited street parking or park at the TJ Maxx/Nordstrom Parking Complex